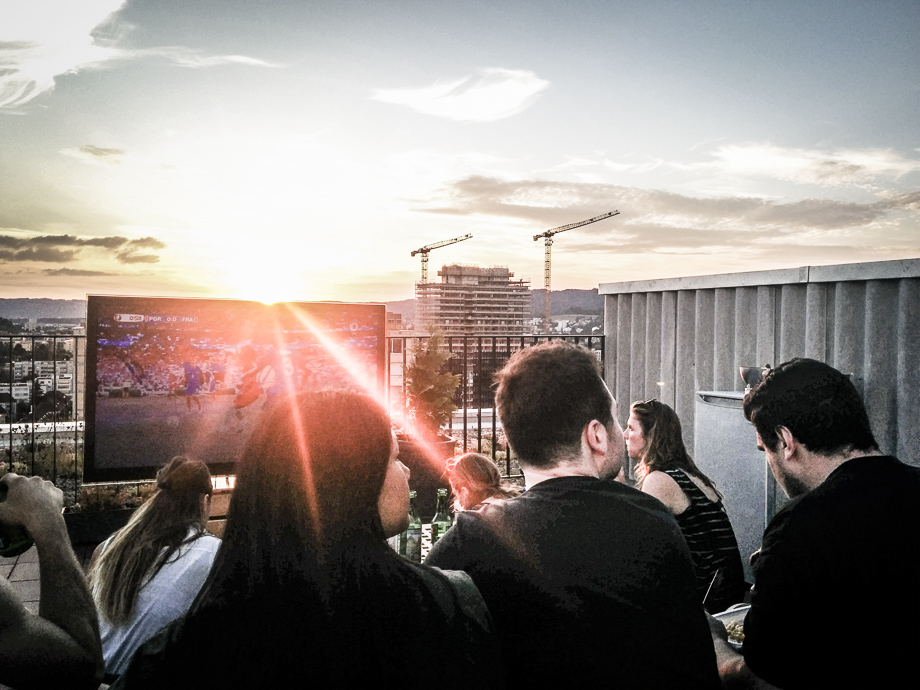 Da wären wir mal wieder. Derzeit läuft viel. Was eigentlich eine Untertreibung ist, es läuft sehr viel.
Anfangs Woche haben wir fürs TEDxBERN die Registrierung eröffnet und die FrontendConf ist auch ziemlich gut unterwegs. Ich bin derzeit fast ein bisschen froh, dass ich an der DrupalCon Dublin 'nur' im Program- und Speaker-Team mithelfe.
Letztes Wochenende ging es kurz in die Berge und zum dank dafür gab es ordentlich Muskelkater.
Nebenbei gibt es noch viel zu tun, wie z.B. eine Hosting Location für amazee.io in Grossbritannien eröffnen und den Ausbau der Infrastruktur vorantreiben.
Und mein privates Hostingzeug zieht derzeit auch gerade auf neue Server (weil PHP7 enorm sexy und schnell ist).
Ob ich auch mal schlafe? Ja kommt vor 😉
Der Begriff «Putsch»: Ein urschweizerisches Gewächs (nzz.ch)
Im schweizerdeutschen Sprachgebrauch ist das Wort Putsch weit verbreitet. Umstürzlerisch wird es aber selten verwendet. Ein Putsch ist zumeist nur ein heftiger Stoss, ein Anrempeln. Der durch einen Zusammenprall erzeugte Knall ist ebenfalls ein Putsch.
Abt. Wer hats erfunden?
GitHub – danielauener/git-auf-deutsch: Git auf deutsch (github.com)
Git in German or how Germans would call it "Das korrekte Git"
Silicon Valley in Österreich: Neue Akkus lassen Tesla alt aussehen (mobil.n-tv.de)
Ein Rechenbeispiel auf Basis des VW e-Golf zeigt, wie weit man damit kommen könnte: "Würde man unsere Batterien in das aktuelle Modell einbauen, hätte der Wagen mit 55,7 kWh mehr als die doppelte Kapazität, käme 430 statt 190 Kilometer weit, wäre nur sieben Kilo schwerer und würde nicht mehr kosten," prahlt Kreisel und erklärt relativ freimütig, wie dieser Fortschritt möglich ist: Zwar nutzen sie die Lithium-Ionen-Akkus genau wie Tesla als standardisierte Rundzellen, die fast so aussehen wie normale Batterien für Taschenlampe oder Spielzeugautos. Doch sie haben ein Verfahren entwickelt, bei dem die einzelnen Zellen wie Patronenhülsen im Gewehrmagazin in Kunststoffkapseln gesteckt werden, bevor sie die Zwischenräume mit einer nicht leitfähigen Kühlflüssigkeit fluten.
Ob das nur alter Wein in neuen Schläuchen ist oder wirklich was mit Zukunft wird sich Zeigen.
Saving Iptables Firewall Rules Permanently (thomas-krenn.com)
apt-get install iptables-persistent
service iptables save
Command Line Kung-Foo
Nicht die Welt ist aus den Fugen (derbund.ch)
Doch in Tat und Wahrheit ist es nicht die Welt, sondern die Wahrnehmung von ihr, die aus den Fugen geraten ist.
Lesenswert… für weniger Sensationshunger
rauchg/wifi-password: Get the password of the wifi you're on (bash) (github.com)
People ask you for the Wi-Fi password. Answer quickly
OSx only, but worth it!
Researchers have finally discovered the key to naturally stripping sugar from all our foods (qz.com)
The fungi—in this case mycelium—itself is not a sweetener, it's flavorless. But by keeping people from tasting bitterness, it allows companies to cut back on the sweeteners they use.
… ob das jetzt gut ist?
The mobile device lab at the Prineville data center (code.facebook.com)
Our Chef recipes check that the phone is in the right state. If it's not and can be modified by Chef, it's automatically fixed. If it can't be modified, the Chef run fails, and the output is logged in a centralized system and reviewed by automated tools. We created alarms on certain Chef failures, which allows us to have a dashboard of the most common failures and to create tickets for our on-site tech support team, if needed. We aim to open-source these Chef recipes in the future, so others can benefit.
Wie Facebook ihren Code au sehr vielen Mobilgeräten testet.
ALPHA vs. The Pro – Judgement Day – Raspberry Pi (raspberrypi.org)
"I was surprised at how aware and reactive it was. It seemed to be aware of my intentions, and reacting instantly to my changes in flight and missile deployment. It knew how to defeat the shot I was taking. It moved instantly between defensive and offensive actions as needed."
Wenn eine AI auf einem Raspberry Pi gegen einen Jetpiloten fliegt – Und gewinnt.
Siemens Showcases Brand-New Electric Motor That's Super Light, Super Powerful, And Perfect For Electric Airplanes (transportevolved.com)
Unlike fossil fuel powered engines, electric motors really don't care which way is up. They operate the same upside-down as they do the right way up — they don't stall and fuss with fuelling issues when you turn them over. They also perform the same at 40,000 feet as they do at 4 feet. Traditional engines require complex mixture and timing adjustments to keep them performing well in the thin atmosphere in which they spend much of their lives. Indeed, it's a wonder that internal combustion engines work at all in aircraft; their vagaries being so pronounced.
Das Teil schient auch ordentlich Power zu haben. Ich bin gespannt auf die Zukunft des elektronischen Flugzeugantriebs.
11 green building materials that are way better than concrete (inhabitat.com)
Architektur: 11 alternative Baumaterialien zu Beton
Pläne der Deutschen Bahn: Züge ohne Lokomotivführer (nzz.ch)
Erste Versuche haben bereits stattgefunden. DB Cargo hat 2015 mit Siemens ein Demonstrationsprojekt gestartet und auf dem Testring Wegberg-Wildenrath nahe der belgischen Grenze mit einem Güterzug und einer Vectron-Lokomotive mehrere Monate lang Szenarien des automatisierten Fahrens durchgespielt: anfahren an eine Wagengruppe zum Kuppeln, Fahrt mit einer Höchstgeschwindigkeit von 100 Kilometern pro Stunde, simulierte Langsamfahrstelle mit 60 km/h, Annäherung an ein Hindernis aus 50 km/h, sicherer automatischer Halt. Ein weiterer Programmpunkt: vollautomatische, per Tablet initialisierte Abfahrt des fahrerlosen Zugs zum Zielpunkt.
Mensch stellt sich vor, dass plötzlich ganze Wirtschaftszweige (!) auf selbstfahrende Fahrzeuge umstellen. Und jetzt alle bitte erstaunt sein…
Varia Instruments – Rotary DJ Mixer RDM20, Handcrafted in Switzerland. (varia-instruments.com)
The RDM20 is a fully analog two channel rotary DJ mixer, with one phono and two line inputs on each channel. For your mixing pleasure we've developed two different three band isolator-banks and built them into the RDM20. One is set on the master and there's another one on each channel. While the master isolator is quite steep and raw, the character of the channel isolator is more soft and smooth.
Rotary Mixer made in Switzerland – Audio Nerds Unite!
fMRI software bugs could upend years of research (theregister.co.uk)
That's not a gentle nudge that some results might be overstated: it's more like making a bonfire of thousands of scientific papers.
Betrifft zwar "nur" fMRI. Jedoch sind auch da Bugs verheerend.
Progress Towards 100% HTTPS, June 2016 – Let's Encrypt – Free SSL/TLS Certificates (letsencrypt.org)
Our active certificates cover more than 7 million unique domains.
Happy to be part of it!
What's this #serverless thing anyway? (read.acloud.guru)
There's a lot of debate as to whether serverless is the best term to apply to these technologies. AWS Lambda is basically a fleet of servers provisioned to execute functions on your behalf. Calling it a serverless compute service perhaps muddies the waters… It's kind of like calling EC2 a hardware-less compute service. It makes sense in one way (hey, don't worry about setting up hardware!), but confuses in another (but isn't there still a LOT of hardware!??).
Sehr guter Serverless Longread oder wieso man es besser Serviceful nennen sollte.
Bis zu 40 Rappen für einen Plastiksack (tagesanzeiger.ch)
Die Kehrtwende der Politik bedeutet nicht, dass alles beim Alten bleibt. Der Detailhandel hat versprochen, im Gegenzug für einen Verzicht des Parlaments auf ein absolutes Verbot selbst etwas gegen den übermässigen Plastikverbrauch zu unternehmen. Jetzt hat die Branche ihren Vorschlag publik gemacht. Demnach sind an Kassen, an denen hauptsächlich Lebensmittel verkauft werden, Einweg-Plastiktüten künftig nicht mehr gratis. Migros, Coop und Co. müssen die Raschelsäcke den Kunden verkaufen. Noch ist nicht beschlossen, wie viel sie kosten werden. In der Branche spricht man von einem Preis zwischen 10 und 40 Rappen.
Endlich!
WTF is operations? #serverless (charity.wtf)
So when I see kids saying "the future is serverless!" and "#NoOps!" I'm like okay, that's cute.  I've lived the other side of this fairytale.  I've seen what happens when application developers think they don't have to care about the skills associated with operations engineering.  When they forget that no matter how pretty the abstractions are, you're still dealing with dusty old concepts like "persistent state" and "queries" and "unavailability" and so forth, or when they literally just think they can throw money at a service to make it go faster because that's totally how services work.
Serverless… 🙂 Dazu passen gut die 10 Fallacies of cloud computing
Gotthard-Live-Übertragung: Technische Meisterleistung aus dem Tunnel (srgd.ch)
Für die Übermittlung des tpc Videosignals loggt sich der LTE-Verstärker mit acht SIM-Karten in die Telekominfrastruktur des Tunnels ein und sendet die Daten via Internet zum tpc-Reportagewagen. Dies geschieht über ein eigens für tpc/SRF freigeschaltetes LTE-Frequenzband. Im tpc-Reportagewagen steht das technische Gegenstück zum Mobile Viewpoint, welches das Datenpaket wieder in ein Videosignal umwandelt. Dies mit fünf Sekunden Verzögerung, damit der Empfänger die einkommenden Datenpakete wieder in der richtigen Reihenfolge einsortieren und Schwankungen in der Datenrate ausgleichen kann.
Eigenes LTE-Frequenzband. Wait WHAT?!
Facebook is disabling messaging in its mobile web app to push people to Messenger (techcrunch.com)
Demzufolge fällt auch meine Facebook Messenger Erreichbarkeit ins Bodenlose. Jänu ¯_(ツ)_/¯